Please Join Us in Welcoming Dr. Tomas Ong!
Happy fall! This year seems to be speeding by, but we have so much to be grateful for here at Precision Family Dental. We have had some wonderful opportunities this year that have allowed us to grow our practice and team to better serve you, our patients.
We are excited to be able to welcome Dr. Tomas Ong to the Precision Family Dental team to continue to care for and give our patients a truly remarkable experience.
We are extremely grateful for the opportunity to work with great doctors and a fantastic team that brings a diversified set of knowledge and skills to care for our patients. We look forward to seeing you for your next visit and to give you the opportunity to meet Dr. Ong! Thank you for your continued trust and support.
Grand Rapids Holistic Dentistry
Dr. Adam Piotrowski is a dentist in Grand Rapids who specializes in a holistic approach to dentistry.
We offer Kid's Dentistry as well as dentistry for the entire family!
Grand Rapids Dentists | Precision Family Dental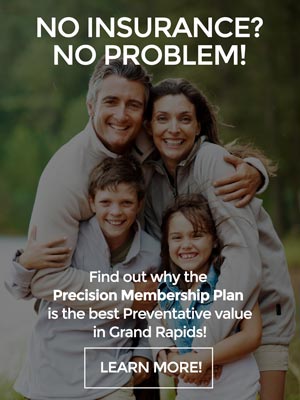 Grand Rapids Dentist, Dr. Adam Piotrowski and his team remain committed to providing all of their patients with high-quality care in a positive, comfortable and nurturing environment. From general family dentistry to cosmetic dentistry, facial rejuvenation, and restorative dental services, you can rely on our caring team to deliver quality dentistry with a gentle touch.
Precision Dental offers a full array of dental services to help you achieve a beautiful smile and optimal oral health. If you are looking for a Grand Rapids, MI Dentist, we want you to know that your oral health needs and comfort are our top concern.
Using advanced dental technology, such as laser cavity detection, we're able to provide revolutionary therapies that are comfortable and convenient. From cosmetic enhancements such as porcelain veneers and teeth whitening to replacement teeth options like dental implants and fixed bridges, we work as a team to create a gleaming smile you'll be proud to share.
Precision Dental is located in Grand Rapids, Michigan and serves the surrounding communities. Dr. Adam Piotrowski enjoys developing relationships with patients, and he looks forward to meeting you, too.
To request an appointment for your next dental checkup, get a second opinion, explore options for cosmetic dentistry, or find out more about sedation dentistry, contact our office today.
Specials & Promotions
Keep your eyes open for our mailers and Facebook specials too!
See What Our Patients Are Saying...
Click the videos below to hear what our patients think about our practice!