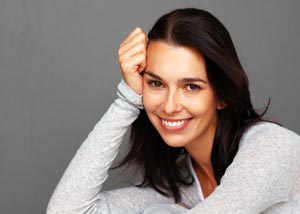 are porcelain veneers that offer the painless way to a permanently whiter and perfectly aligned smile.
Our Grand Rapids cosmetic dentists at Precision Family Dental can apply these contact lens-thin 'smile shapers' to teeth without any grinding or shaving — transforming teeth into a naturally beautiful smile that looks perfect for every individual.
If you have undergone restorative procedures in the past, you're in luck. Lumineers can even be placed over existing dental crowns or dental bridges without having to replace them.
Lumineers are contact lens-thin and are placed over existing teeth without having to remove painful tooth structure, unlike traditional veneers. Lumineers offers a painless and permanent cosmetic solution for stained, chipped, discolored, or misaligned teeth.
In just 2-3 visits to our Grand Rapids dental office, you can have a custom-made smile clinically proven to last 20 years — and completely reversible since your natural tooth structure remains intact
Benefits of Lumineers
Not interested in pursuing orthodontics? Lumineers can be used instead of braces to correct unwanted dental issues such as gaps between teeth. Unlike braces, you can eat and drink whatever you please when you get porcelain veneers. Just make sure to keep going to our dentists regularly for cleanings. Lumineers are also great for patients with dental anxiety as no drilling, shots, or anesthetic are necessary during application.
A custom-made smile clinically proven to last 20 years!
Lumineers are matched to the color of your teeth and look just as natural as the rest of your teeth. The porcelain material Lumineers are made out of is highly resistant to stains, so you won't have to worry about your Lumineers becoming worn and discolored. They are also durable and normally last longer than twenty years when properly cared for.
Transform Your Smile Today
To learn more about Lumineers or to request an appointment with our cosmetic dentists in Grand Rapids, MI, please call our office directly at (616) 949-1570. At Precision Family Dental, we are dedicated to helping patients maintain good oral health and feel confident with their smiles through quality dental treatments.