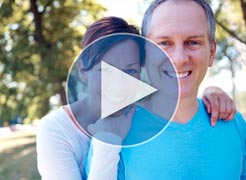 A dental implant is a biocompatible, man-made substitute that replaces missing tooth roots. Usually made of the space-age alloy titanium, implants come in various shapes and sizes to fit the situation.
Your Grand Rapids dentist at Precision Family Dental will place these cylindrical bars into bone allowing them to lay undisturbed while the bone heals around them, locking them in like an anchor.
After a few months, the implants are used as a foundation for replacing the missing teeth. Dental implants are the most stable and economically far-sighted solution to the very real problem of missing teeth.
Specially-Trained Dentist and Periodontist
We have a specially-trained dentist and periodontist on staff who specialize in the placement of dental implants. Our periodontist also specializes in treating the gums and other soft tissues of the mouth. As you recover from the dental implant procedure, our periodontist will make sure your gums heal properly and look attractive. Unlike general dentists, our team has undergone extra training to give you the best results.
Health Benefits of Dental Implants
It is important to understand that your teeth are held in place by tooth roots and surrounding teeth. This means that when you lose a tooth, the teeth surrounding the gap begin to tilt toward the open space. A dental implant not only prevents further tooth loss, but it also allows you to eat and speak easier. Many of our patients report having better confidence after dental implant recovery.
Dental implants are the most stable solution to missing teeth!
Dental implants restore lost chewing ability, improve appearance, end embarrassment and give real self-confidence to patients who need them. Because of proven success, preservation of existing teeth and no susceptibility to dental decay (cavities), dental implants are the answer to missing teeth. They are a real breakthrough!
To learn more about our dental implant treatments or to request an appointment with our Grand Rapids dental implant dentist Adam Piotrowski DDS, please contact us here or call our office directly at (616) 949-1570. At Precision Family Dental, we work hard to help patients maintain beautiful smiles through quality dental treatments.