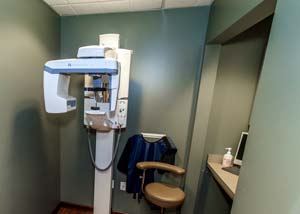 We take a panoramic x-ray of your mouth every 5 years to check for oral health issues like tooth decay or jawbone deterioration.
This is just one of the many ways our Grand Rapids dentist helps you maintain healthy teeth and gums.
A panoramic x-ray is different from the other dental x-rays we do because it gives us a full view of your mouth in one image.
A fully digital panoramic x-ray can detect:
Impacted wisdom teeth
Advanced gum disease (periodontitis)
Oral cancer
TMJ disorders
And more!
While dental images are often used for preventative dentistry, they can also be used to plan treatment. For example, if you recently lost a tooth, our dentist may want a panoramic x-ray to see if you are a candidate for dental implants.
We're dedicated to helping you maintain a beautiful healthy smile!
Likewise, dental pictures can also help us plan tooth extractions or orthodontic treatment. We strive to use the latest dental technology so you can receive the best care for your smile.
Dr. Piotrowski DDS and his team are dedicated to helping you maintain a beautiful healthy smile by offering preventative dentistry services like fully digital panorama. To schedule an appointment with our Grand Rapids dentist, call Precision Family Dental at (616) 949-1570.