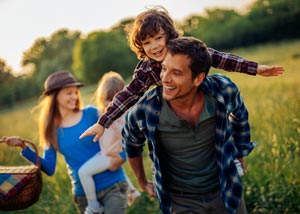 The sooner our Grand Rapids family dentist are able to detect a cavity, the smaller the tooth filling.
Like the name suggests, a dental filling is used to fill in the hole left behind after our dentist removes tooth decay. A filling will restore the strength of your tooth so you can avoid extensive dental restorations or even tooth loss.
If you have a tooth that requires a filling, our knowledgeable Grand Rapids dentist at Precision Family Dental will remove the decayed material, clean the affected area and then fill the cavity with a filling material. This filling will help to prevent further decay by closing off any cracks or spaces where bacteria can enter and cause harm to the tooth.
Types of Tooth Fillings
We offer silver amalgam and composite fillings. Many of our adult patients appreciate composite fillings because they match the color of their natural tooth enamel. Tooth-colored fillings are best for teeth that show when you smile and talk. Amalgam fillings, on the other hand, are less expensive and more durable.
A filling will restore the strength of your tooth!
Be sure to check with your dental insurance before your appointment, as many companies only cover silver amalgam fillings.
Tooth Filling Procedure
If your dentist discovers a cavity during your oral examination, you'll need to treat it with a filling. First, your dentist will inject local anesthesia near the tooth. Once the tooth is properly numb, your dentist will drill the decayed tooth matter from the tooth and fill the resulting hole with silver amalgam or composite resin. Fillings are best for small cavities that don't compromise the structural integrity of the tooth.
To learn more about our tooth filling treatments or to request an appointment with our Grand Rapids tooth filling dentist Adam Piotrowski DDS, please contact us here or call our office directly at (616) 207-1280. At Precision Family Dental, we work hard to help patients maintain beautiful good oral health.