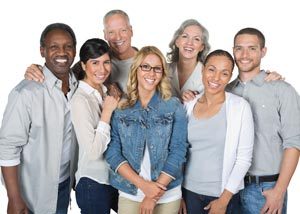 It's a shame when patients let common myths about orthodontic treatment stop them from getting the smiles they've always wanted.
Our dentist orthodontist is more than happy to answer any questions you may have about orthodontic treatment.
Our goal is not only to help you maintain good oral health, but to help you feel comfortable with your smile.Continue reading to learn about the 5 most common myths about teeth braces and aligners.
1.) Only children and teens can get braces.
It's never too late to get adult braces. Our dentist orthodontist can straighten teeth at any age. Crooked teeth and bite issues not only affect your appearance, but your oral health. If you think you would feel self-conscious with metal braces, we also offer .
Like the name suggests, Invisalign are nearly that move teeth little by little to their optimal positions. Many of our adult patients appreciate that clear aligners are subtle enough to go unnoticed by family, friends, and co-workers.
2.) It takes too long to straighten teeth.
Each patient is different. This means that you won't know how long it'll take to fix your smile until you schedule an appointment with our dentist. You may be surprised by how quickly you could be enjoying a beautiful healthy smile. How long your treatment takes will also depend on your compliance. For example, Invisalign aligners have to be worn 20 to 22 hours a day in order to work.
3.) Only metal braces can straighten teeth.
Worried you'll feel self conscious while wearing metal braces? Our dentist offers plenty of options to help you get the smile you've always wanted. For example, Invisalign Invisalign dentist if clear aligners are right for you.
can move your teeth in as little as 12 to 18 months. Ask your
4.) Braces don't affect oral health.
If you have teeth that overlap, you know how difficult it can be to brush and floss teeth. Dental plaque also loves to hide in between your teeth and along the gum line. Untreated plaque buildup increases your risk for cavities, gum disease, and other oral health issues. The sooner you fix crooked teeth, the sooner you'll be able to maintain better oral health.
5.) I can straighten teeth myself.
The most dangerous myth about orthodontic treatment is that you can straighten teeth safely by yourself. While there are plenty of DIY options on the internet for teeth straightening, we strongly advise you don't use them. Otherwise, you may end up causing more harm than good to your smile.
During orthodontic treatment, our dentist carefully monitors your progress to make sure teeth are moving into optimal alignment. Our dentist also makes sure that teeth don't move too quickly as to not damage the roots.
Dr. Piotrowski DDDS and his team are dedicated to helping you smile with confidence by offering braces, clear aligners, and other orthodontia services. To schedule an appointment with our Grand Rapids dentist, call Precision Family Dental at (616) 207-1280.