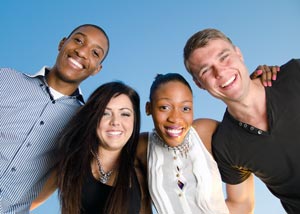 Orthodontics, which most of us know as braces, describes the art of using appliances to straighten and align teeth.
At Precision Family Dental, our Grand Rapids dentist most commonly use braces to move teeth into their proper positioning.
Our Grand Rapids family dentist will bond brackets to your teeth and thread wires through the brackets. The arch wires act as a track, guiding each tooth to its proper position. Metal braces can correct the following issues:
Crooked teeth
Crowded teeth
Gapped teeth
Overbite
Underbite
Crossbite
Open bite
And more!
Why Choose Metal Braces?
According to the orthodontic treatment during childhood is because teeth are easier to move while the jaw is still growing.
, a child should have their first orthodontic exam by age 7. While most of our patients with braces are children, adults can also seek orthodontic treatment. The reason we start
Experienced in helping patients achieve their best smiles!
Crooked or crowded teeth are more than just a cosmetic issue. Misaligned teeth can make it difficult to brush and floss your teeth properly, increasing your risk of cavities. If you have bite issues, it's also not uncommon to develop jaw pain. If you are unsure whether you or your child could benefit from metal braces, we recommend scheduling an appointment with one of our orthodontic dentists.
To learn more about our metal brace services or to request an appointment with our Grand Rapids orthodontic dentist Adam Piotrowski DDS, please contact us here or call our office directly at (616) 207-1280. At Precision Family Dental, we work hard to help patients restore their confidence in their smile through quality dental services.