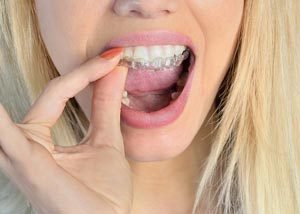 You may be a candidate for Invisalign® braces if you have crooked teeth or minor bite issues. Although, Invisalign now has
to treat more complex cases.
Invisalign can treat overbites, underbites, crossbites, gap teeth, open bites, and crowded teeth. Invisalign is also for people who have generally straight teeth who want to improve the appearance of their smiles.
The only way to know for certain if you're a candidate for Invisalign is to schedule a consultation. Our Invisalign dentist would be more than happy to evaluate your orthodontic needs.
Candidates for Invisalign braces are:
Motivated to straighten teeth
Interested in discreet orthodontic treatment
Willing to wear aligners 20 to 22 hours per day
Interested in improving their oral health
Invisalign First
In general, we recommend Invisalign for teenagers and adults. But there's also Invisalign First for children who need Phase 1 Treatment.
is for children ages 6 to 10 who have a mix of baby and permanent teeth.
Invisalign designed their trays to expand your child's dental arches. This creates space for your child's adult teeth to erupt without crowding.
Once your child finishes Phase 1 Treatment, there will be a break while they get the rest of their adult teeth. Then, we'll start Phase 2 with
.
While Invisalign offers trays for children, use your best judgment as a parent. At the end of the day, you know your child best and will know if they have the emotional maturity to wear their aligners.
Also, remember that Invisalign only works as long as your child wears their trays 20 to 22 hours per day. Your child's teeth and jaws will only move under gentle, constant pressure.
Invisalign for Teens
Being a teenager is awkward enough without metal braces on your teeth. That's why we offer Invisalign as an alternative to traditional orthodontic treatment.
You also have the option of adding blue compliance indicator dots to your teen's aligners. Over time, these blue dots fade away as your child wears their aligners. The dots should disappear by the time your child comes in for their next appointment with us. This ensures compliance so your teen completes their Invisalign treatment on time.
Invisalign for Adults
Interested in Invisalign for adults? You're in good company! About is an adult, according to the American Association of Orthodontists. Clear aligners are discreet, which means most people won't notice you're wearing them. The only exception would be if they were standing very close.
Are you prone to getting cavities due to crooked, crowded teeth? Invisalign is great because it straightens teeth, improving oral health over time.
Plaque loves to hide where toothbrush bristles can't reach. For example, you may have plaque buildup between crowded teeth. If you have traditional metal braces, you may have plaque hiding by your wires and brackets. But clear aligners are removable, which means you'll be able to brush and floss like normal.
A Note About Major Bite Issues
Each patient is different. For example, you may need traditional metal braces and oral appliances for a major bite issue. Likewise, some patients can correct bite issues with aligners and SmartForce attachments.
SmartForce attachments are small, tooth-colored bumps our dentist can attach to your teeth to achieve complex movements. These attachments act like handles for your aligners to gently push against. SmartForce attachments aren't for everyone, but they can help patients with major bite issues.
Discover If You're a Candidate for Invisalign Braces!
Dr. Adam Piotrowski is accepting new patients! To request an appointment with Precision Family Dental, call (616) 949-1570. Our , would be more than happy to help you fully understand your orthodontic options.
This blog post has been updated.