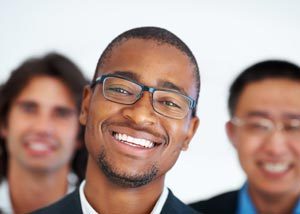 Invisalign® can straighten teeth in as little as 12 to 18 months, giving you a more attractive smile. If you have ever felt self-conscious about your smile, you owe it to yourself to schedule an appointment with one of our Invisalign dentists.
Like the name suggests, Invisalign are nearly invisible aligners designed to move your teeth little by little into a beautiful healthy smile. Continue reading to learn if Invisalign braces are right for you.
Wish you could
? Invisalign fits over your teeth and exerts enough pressure to safely move teeth into optimal alignment.
Am I a Candidate for Invisalign?
Wish you could straighten teeth without traditional metal braces? Ask our dentists if you're a candidate for clear aligners. The perfect candidate for Invisalign is someone who is motivated to wear their aligners at least 20 to 22 hours a day. Whether you have only a few crooked teeth or issues with bite alignment, Invisalign can help you achieve your dream smile.
How Does Invisalign Work?
Invisalign are clear aligners that fit over your teeth and exert pressure on them to move. To get started, our dentists use advanced 3D computer imaging to take pictures of your teeth, gums, and jaws. After this is done, a treatment plan is created for your smile.
Once you have a treatment plan, a series of clear aligners are custom made. You will wear each set of aligners for about 2 weeks before it is replaced by the next in the series. Each set of aligners you wear will bring you closer to your ideal smile.
How Often Must I Wear Aligners?
You must wear your Invisalign aligners 20 to 22 hours a day. Otherwise, your teeth will not move according to schedule. Only remove your aligners to brush, floss, eat, and drink.
What Are the Benefits of Invisalign?
Many of our patients appreciate that Invisalign is subtle enough to go undetected by family, friends, and co-workers. If you would feel self-conscious wearing metal braces, ask our dentists about
.
Unlike traditional braces, you'll be able to continue eating your favorite foods during Invisalign treatment. Simply remove your aligners to eat and drink. However, you will need to brush and floss your teeth after meals to prevent staining your clear aligners.
It'll be much easier maintaining your oral health when you're able to brush and floss normally. People with metal braces often have a hard time cleaning teeth around wires and brackets.
How Long Does It Take Invisalign to Straighten Teeth?
In general, our adult patients achieve their best smiles within 12 to 18 months. However, keep in mind that the length of your treatment will depend on the complexity of your case.
Each patient is different. Also, keep in mind that the less you wear your aligners, the longer your treatment will take. This is why it's important to wear your clear aligners the recommended 20 to 22 hours a day. Otherwise, your teeth won't move according to schedule.
How Often Do I Need to See the Dentist During Treatment?
Depending on the complexity of your case, our dentists will need to see you every 4 to 6 weeks to monitor your progress. If you've been diligent about wearing your aligners, we will be able to give you the next set of aligners in the series. If you haven't been wearing your aligners, you won't progress as quickly through your Invisalign treatment.
Does Invisalign Hurt?
Invisalign works by exerting pressure on teeth to safely move them into optimal alignment. While you will experience temporary discomfort within the first couple days of wearing new aligners, the pain will go away. The pressure you feel is a sign that your teeth are moving to their final destinations. Many of our patients feel that the temporary discomfort is worth having a beautiful healthy smile.
Will Invisalign Restrict My Diet?
No. Invisalign aligners are removable, which means you can continue eating your favorite foods. However, make sure you brush and floss your teeth after meals to avoid staining your clear aligners. You'll also need to brush your teeth after drinking tea, coffee, wine, or other beverages other than water.
Make an Appointment Today
Dr. Piotrowski and Dr. Cohen are dedicated to helping you achieve your best smile with Invisalign and other cosmetic dentistry services. To schedule your appointment with our , call Precision Family Dental at (616) 949-1570.
This post has been updated.