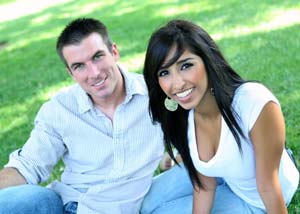 If you have ever felt self-conscious about your smile, you owe it to yourself to ask our dentist about Lumineers®. Dr. Adam Piotrowski is a Lumineers dentist in Grand Rapids, MI who has helped countless patients smile with confidence.
With Lumineers, our cosmetic dentist can improve the appearance of your smile in as little as two appointments. Lumineers are perfect for patients who have slight gaps between front teeth or tooth discoloration. Unlike traditional , Lumineers are thin enough that we often don't have to remove tooth enamel.
Keep reading to learn if Lumineers are right for your smile.
What are Lumineers?
Lumineers are thin pieces of resin that slip over your existing teeth. The resin's color is expertly blended to match the shade of your teeth, or the shade you hope to achieve. During the procedure, the Lumineers are bonded to your teeth to ensure a precise and comfortable fit. These teeth covers give you the appearance of white evenly-spaced teeth.
Should I get Lumineers?
Lumineers are perfect for fixing small cosmetic issues like stained teeth or slight gaps between front teeth. If you have more serious issues like an overbite or crowded teeth, our dentist may recommend orthodontic treatment.
Which is better: traditional veneers or Lumineers?
Traditional veneers and
both cover front teeth to hide small chips, cracks, stains, and other minor imperfections. Yet, the similarities end here. Unlike traditional veneers, our dentist doesn't have to remove as much healthy tooth structure to place Lumineers.
Lumineers veneers are ultra-thin, which means you may not even need your teeth shaved down at all. If you do, you'll still keep much more healthy tooth structure than if you chose traditional dental veneers. Still not convinced? Check out our blog post on what happens during the veneers process.
How much do Lumineers cost?
The Lumineers cost will depend on the number and size of the teeth you want to fix. For example, Lumineers for large teeth tend to be more expensive because they need more resin and time to bond properly. The position of your tooth can also affect cost. It's a good idea to check what your dental insurance policy covers before scheduling your appointment.
How can I get Lumineers?
During your consultation, our Lumineers dentist will sit down with you to discuss your cosmetic dentistry options. If our dentist determines you are a candidate for Lumineers, we can begin treatment as soon as possible.
During your first visit with us, we will take dental impressions. We then send the impressions to the Lumineers lab with other pertinent dental records to create your custom Lumineers.
When you return for your second visit, we will be ready to bond the Lumineers to your teeth. The procedure is relatively painless and the vast majority of our patients are able to resume their everyday activities after their Lumineers have been placed. Even though Lumineers are thinner than traditional porcelain veneers, they are durable enough to last up to 20 years.
How long do Lumineers last?
It's important that you see our Lumineers dentist at least every 6 months, so he can monitor your oral health and the condition of your dental restorations. You will eventually have to replace your Lumineers during your life, usually every 10 to 15 years. However, Lumineers have been known to last up to 20 years with proper care. When you're ready for your replacement veneers, schedule an appointment with our office.
Like with your original Lumineers teeth, we will take dental impressions before sending them to the lab to have your
made. For your next appointment, we will bond the specially crafted resin to your teeth.
Can Lumineers be removed?
Each patient is different. If your dentist had to remove healthy enamel to place your Lumineers (even if it was only a little), you'll need another protective covering over your teeth.
Otherwise, the exposed teeth will feel sensitive and look different from the rest of your smile. If you are unhappy with the look of your Lumineers teeth, our dentist can replace them with traditional porcelain veneers. Many patients come to us to fix their smiles after being unhappy with the results they've gotten from other cosmetic dentists.
If your previous dentist didn't remove any healthy tooth structure, Dr. Piotrowski may be able to remove your Lumineers without any issues.
Make an Appointment Today
Dr. Piotrowski and his team are dedicated to helping you achieve your best smile by offering Lumineers teeth and other cosmetic dentistry services. To schedule an appointment with our , call Precision Family Dental at (616) 207-1280.
This blog post has been updated.