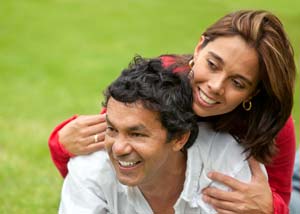 Has your dentist recommended a dental crown for one of your teeth? If so, you may want to ask about getting a CEREC crown.
A crown (sometimes called a "tooth cap" by our patients) covers the entire visible portion of your tooth above the gum line.
While a porcelain crown may take a few weeks to be made in an off-site dental lab, a CEREC crown is made right in your dentist's office the same day.
What Does CEREC Mean?
CEREC stands for Chairside Economical Restorations of Esthetic Ceramic and allows our Grand Rapids dentist at Precision Family Dental to provide better service to our patients. This technology works similarly to a 3D printer and lets us create a new dental restoration for you in just one appointment.
READ MORE: Are CEREC Crowns Better than Traditional Crowns? >>
Here are 5 good reasons you might want to ask about CEREC crowns at your next appointment.
1. Quick
The original dental crown procedure took two trips to your dentist's office and a temporary crown while you waited for your permanent dental restoration. Thankfully, our
eliminates the need to wait for your to be made in an off-site dental lab. Instead, your dentist is able to take digital impressions of your teeth and design your dental crown right before your eyes.
2. Precise
CEREC takes high-resolution pictures of your teeth that can't be matched by traditional impressions taken with pink putty. Since the CEREC technology takes precise pictures of your teeth, you can be assured that your new ceramic crown will look and feel natural.
3. No Pink Impression Goop
If you have a strong gag reflex, you'll be happy to know that your dentist won't have to use pink impression putty to create accurate dental impressions. CEREC uses pictures and data to create a 3D model of your teeth and gums so you can skip having a tray of pick goop pressed against the roof of your mouth.
4. Durable
Unlike amalgam fillings, ceramic crowns are durable enough to resist cracking caused by expansion and contraction. Instead, the ceramic moves naturally with your teeth. With proper care, there's no reason why your crown shouldn't last you for many years to come. Make sure that you maintain a healthy oral hygiene routine by brushing twice daily and flossing once a day. Many of our patients appreciate that ceramic crowns look and feel like natural tooth enamel.
5. No Heavy Metals
Many of our patients are careful about what materials they put in their mouth, which is why we're happy to offer ceramic dental crowns. There are no heavy metals in ceramic crowns, which can help give you peace of mind.
If you are interested in getting a CEREC dental crown, you should schedule a consultation with your dentist. That way, you'll be able to discuss options that are best for your smile. CEREC has not only improved how dentists provide service to patients, but has made getting dental crowns more convenient. To learn more about CEREC crowns, we recommend reaching out to a dentist near you.
Call Our Office
Dr. Adam Piotrowski DDS at Precision Family Dental is dedicated to helping patients achieve their best smiles with the latest dental technology. If you are interested in learning more about same-day crown treatments, schedule an appointment with our Grand Rapids dentist at (616) 949-1570.
This blog post has been updated.